WHO WE ARE
Our landscape department consists of 45-60 individuals with varying experience and degrees in horticulture, agriculture, turf management, arboriculture, and irrigation system management. We pride ourselves on properly maintaining the campus landscape and grounds, recognizing that the natural beauty and function of campus is critical to recruiting students, faculty and staff.
---
Meet the team
Landscape Department Supervisor
Lisa graduated from Utah State University with a degree in Horticulture. She is a certified arborist and certified as Qualified Water Efficient Landscaper (QWEL). Lisa has worked at the University of Utah since 2011. Prior to the U, Lisa worked as the Outdoor Environment Coordinator for Davis School District where she developed a program that managed landscapes for over 85- K12 schools and support facilities. She also worked for Uintah School District as the Facility Maintenance Coordinator. Like most horticulturists, Lisa enjoys being outdoors and close to all things wild.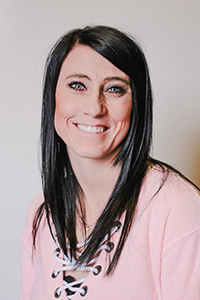 Administrative Assistant
Karine is a graduate of Bountiful High School. After graduating high school, she went on to play college soccer for UVSC (now UVU). Karine has been with the University of Utah for 4 years. Starting off at the call center in SJHC for a year where she was one of the schedulers and messengers for all 10 community clinics and their doctors. After that, she moved up to the main hospital to be the Interpreter Coordinator for the Hospital, Moran, Ortho center and the backup coordinator for the 10 community clinics. She was there for a year. After this she transferred to the Volunteer Services program where she was the program assistant for the hospital volunteer program. She assisted with the on-boarding and maintaining of the over 400 volunteers. She then moved into her position now as the Executive secretary for the Landscape, Heavy Equipment and Moving Teams. She supports 2 supervisors and a total of 60 employees. In her free time she enjoys Real Salt Lake, playing soccer for 2 teams, her family and cheering for the Utes.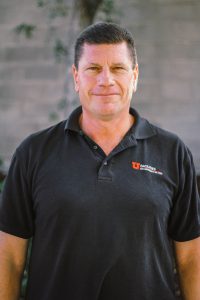 Arboriculture Team Lead
John graduated from USU with a B.S. Horticulture and is a certified arborist. He has been working with trees for the last 13 years and has worked at the U for 8.5 years. John has his Class A CDL and his certification for Pesticide Application as well as a certification for forklift operation.
When he is not at work he enjoys traveling with his family and hiking.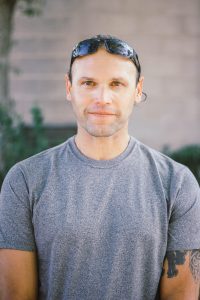 Arboriculture Team Lead
Shem attended USU where he earned his Master gardener certification in 2011 and in 2015 he obtained his International Society of Arboriculture certification. Shem had practiced landscape construction for 20 years prior to coming to the University of Utah in 2010. Shem specializes in paver systems, water features, retaining walls and custom residential landscape installs and has been managing the tree climbing crew at the University of Utah since 2015.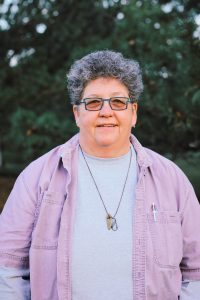 Horticulture Team Lead
"My name is Ann Williams. I am a native Utahn from the Salt Lake Valley, though I have lived in many parts of Utah and Nevada and Montana. I have a BS degree in Plant Science, with an emphasis in Ornamental Horticulture, from Utah State University. I have been a certified Arborist since 1997. I have been a licensed Pesticide Applicator in the state of Utah since 1987. I have worked in the Grounds Department at the University for more than 22 years, doing everything but irrigation. Currently I am one of the crew leads for the Horticulture crew."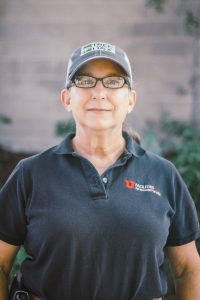 Greenhouse Team Lead
Marcene received a Bachelor of Science from Utah State University in Ornamental Horticulture. She is a member of Phi Kappa Phi National Honor Society and graduated Cum Laude. Marcene completed a 9 month internship at the Chicago Botanic Garden focusing on Public Garden Operations. Marcene became acquainted with the "U" when she worked as a seasonal employee from 1989-1990. After she went back to school to get a BS degree, she returned to the "U" in 1994 as a Crew Lead/Greenhouse Coordinator.
In her spare time, Marcene enjoys activities such as hiking, biking, alpine skiing, and interests like wild flowers and Monarch butterflies.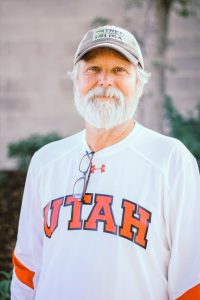 Irrigation Team Lead
Brad is currently working as the Irrigation Foreman, for a team of seven irrigation technicians as well as working alongside the Maxi-com irrigation specialist. Brad has been working for the University for just over 9 years and before this, was in charge of lower campus for 7+ years. Prior to working at the U, Brad was an employee at Wasatch Lawn Memorial Park Cemetery for the 100+ acres, working as the grounds foreman for 20 years where he maintained all tree pruning, flower beds, irrigation and hose watering responsibilities.
Brad has designed and installed many home irrigation systems as a freelance project on the side and specializes in sprinkler system wiring and repair.
"In my spare time, when my wife lets me, I enjoy exploring new areas and hiking new trails, I like to kayak, golf, and camp. I am very much in love with a place called Prince of Wales Island, to the west of Ketchikan Alaska. With fishing sightseeing, boating, and lots of nature – I would take my last breath there."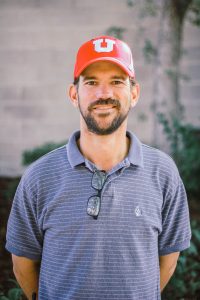 Turf Team Lead
Jesse was born and raised in Jackson, MS. He majored in Mathematics from 2004-2008 at Louisiana State University. His interest in agronomy and horticulture developed while working at The University Club of Baton Rouge. Jesse moved to Salt Lake City in 2009 and gained experience at Glenwild Golf Club and later at Willow Creek Country Club, host of the Utah Championship from 1999-2014. Jesse began at the University of Utah in December of 2014 and is working on a degree in Plants, Soils, and Climates through Utah State University.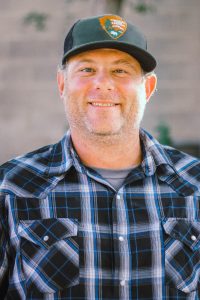 IPM Team Lead
George (Jake) was born in Hollidaysburg, Pennsylvania and attended Penn State University and received his Master gardener certification. Jake has been a presented at UNLA Greens Conference for Cultural Turf Practices as well as at the Canyons School district for weed control without pesticides. In his free time, he enjoys hanging out with family, fly fishing, camping, forging, BBQing, woodworking, and studying insects.
---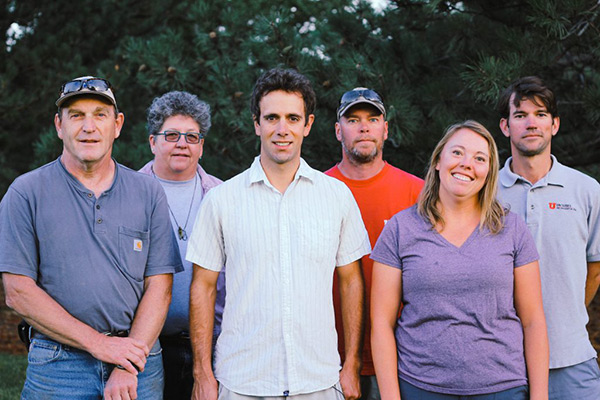 Lean Team
We were first introduced to Lean management as an effort to improve our snow removal process on campus. Team Yeti uncovered inconsistencies in emergency communication due to snow storm related events. We invited other departments to participate in our process improvement planning for snow removal in order to establish a firm pattern for response to snow. Facilities dispatch teams, campus police, heat plant personnel (off hours dispatch notification) met with us to improve customer service experience.
Since this first effort we have used Lean processes to accomplish these goals. Every Lean team has different outcomes in mind, different team members involved and different outcomes. We remain diligent in implementing new process ideas by keeping these core principles in mind: focus on the customer, figure out how work gets done, remove inefficiencies and waste, and empower people in the process.
We are the most progressive department on campus when Lean initiatives are suggested and implemented. If you would like more information about our internal initiatives or how Lean can work for you, please contact Lisa McCarrel or Shireen Ghorbani at the University of Utah.
Lean Team Members: Bridgette Webb (Lean Team Lead), Kenny Frisch (Arboriculture Representative), Jessey Pressley (Turf Representative), Rob Trzakawka (Equipment Representative), Steve Weston – (Irrigation Representative), Ann Williams (Horticulture Representative)
---
OUR SERVICES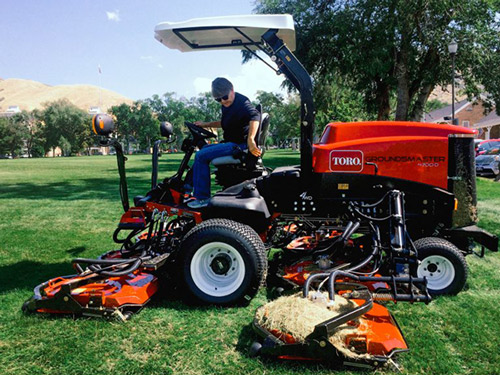 The U has a large enrollment and faculty population of over 50,000 people. The campus involves nearly 800 acres consisting of turf grass, traditional horticultural plantings and open space. Traditional landscapes are used to highlight the heritage, charm and beauty of President's Circle and the Fort Douglas area, and to enhance the classic architecture in these areas. Other areas of campus are used to educate campus visitors in sustainable landscape opportunities using drought tolerant species which may be regionally adapted or native species.
The state of Utah looks to the University of Utah to use water efficiently. Campus administration and facility management depend on the irrigation department to use up to date resources, equipment and criteria to effectively maintain plant vigor without wasting this precious resource. The State Arboretum of Utah is integrated across the campus of the University of Utah and Red Butte Garden. The arboretum contains over 100 species of trees. Assets such as magnificent Bur Oak, Magnolia, Giant Sequoia and Kentucky Coffee Tree are represented. The University Campus Master Planning committee develops the vision of the campus community. Their goal is to provide a functional and lively campus that utilizes the natural landscape setting and provide leadership in sustainable and environmental stewardship. With this comes the enormous challenges of maintaining the highest level of excellence and performance of our landscapes. We pay close attention to detail on daily assignments, seasonal planting, pruning, snow removal and project planning. You now have the opportunity to lend your unique experience to this endeavor.