Welcome to the University of Utah Landscape Department. Founded in 1850, the University of Utah is a non-profit public higher education institution located in the foothills of Salt Lake City, Utah.
WHAT WE DO
---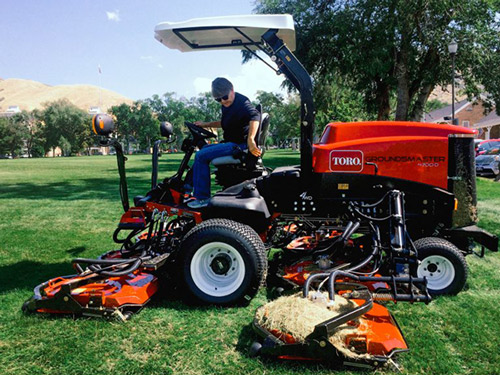 The U has a large enrollment and faculty population of over 50,000 people. The campus involves nearly 800 acres consisting of turf grass, traditional horticultural plantings and open space. Traditional landscapes are used to highlight the heritage, charm and beauty of President's Circle and the Fort Douglas area, and to enhance the classic architecture in these areas. Other areas of campus are used to educate campus visitors in sustainable landscape opportunities using drought tolerant species which may be regionally adapted or native species.
The state of Utah looks to the University of Utah to use water efficiently. Campus administration and facility management depend on the irrigation department to use up to date resources, equipment and criteria to effectively maintain plant vigor without wasting this precious resource. The State Arboretum of Utah is integrated across the campus of the University of Utah and Red Butte Garden. The arboretum contains over 100 species of trees. Assets such as magnificent Bur Oak, Magnolia, Giant Sequoia and Kentucky Coffee Tree are represented. The University Campus Master Planning committee develops the vision of the campus community. Their goal is to provide a functional and lively campus that utilizes the natural landscape setting and provide leadership in sustainable and environmental stewardship. With this comes the enormous challenges of maintaining the highest level of excellence and performance of our landscapes. We pay close attention to detail on daily assignments, seasonal planting, pruning, snow removal and project planning. You now have the opportunity to lend your unique experience to this endeavor.
OUR SERVICES
---