The University of Utah Campus is a State Arboretum.
---
In 1930, Dr. Walter P. Cottam, co-founder of The Nature Conservancy and chairman of the Botany Department at the University of Utah, began using campus land for plant research. For more than 30 years, he evaluated plants to determine their adaptability to our region.
In 1961, the Utah State Legislature formally recognized Cottam's impressive collection by designating the University's campus landscape as a State Arboretum. The original legislation mandated that the Arboretum "provide resources and facilities for cultivating a greater knowledge and public appreciation for the trees and plants around us, as well as those growing in remote sections of the country and world."
Visit the Tree Tour
For more information:
QR Code Feature
---
The Sustainable Campus Initiative Fund (SCIF) oversees competitive grants for student projects focused on sustainability education, environmental issues, energy efficiency, and more. SCIF's mission is to provide funding for real-world projects that improve the U's environmental quality and make the campus more sustainable.
In 2015, SCIF students partnered with Facilities Management to work on the grant project, "Discovering Our Campus Arboretum".
This project was an effort to bring awareness to the University's urban forest, these students updated the tree plaques on campus. The plaques now include a digitally accessible QR code.
The new plaques create a visual gateway to more information by connecting to a Tree Tour that people can experience both virtually and physically, via interactive maps.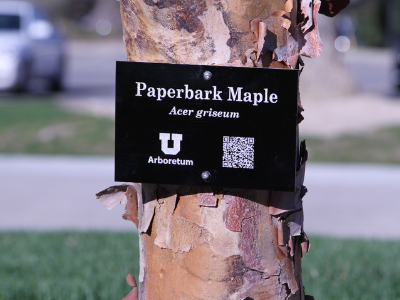 The public can scan the QR code to learn more about the trees around Campus.
---
Ash
Beech
Birch
Catalpa
Cedar
Cherry and Plum
Chitalpa
Coffee Tree
CorkTree
Crabapple
Dawn Redwood
Douglas Fir
Elm
False Cypress
Filbert
Fir
Ginkgo
Goldenchain Tree
Goldenrain Tree
Hackberry
Hawthorn
Honeylocust
Hornbeam
Horsechestnut or Buckeye
Japanese Lilac Tree
Juniper
Linden
Locust
Magnolia
Maple
Mimosa
Mountain Ash
Mulberry
Oak
Osage Orange
Pagoda Tree
Pea Tree/Shrub
Pear
Pine
Poplar
Redbud
Rubber Tree
Sequoia
Serviceberry
Smoketree
Spruce
Sumac
Sweetgum
Sycamore
Tulip Tree
Viburnum
Yellowwood
Zelkova