The SEED2SOIL program brings together experts and stakeholders along with operational sustainability topics to expand, prioritize, and refine known opportunities for carbon reduction.
Process is led by the Cultivators, an administrative committee, meeting on a biweekly basis:
Chris Benson (Facilities S&E)

Lissa Larson (Facilities S&E)

Dr. Sarah Hinners (GCSC)

Sam Jensen-Augustine (PDC)

Emerson Andrews (Sustainability Office)

Alexis Pearl Lee (UHealth)
Make an impact

Brainstorm your ideas to improve University upporations in relation to sustainability

Have your research topic endorsed and funded

Have ideas guided by an expert

Network with experts, stakeholders, and cultivators
Social Enagement, Evaluation, and Discovery
Any event to capture ideas for projects that would improve University operations in relation to sustainability
SEED events may bring together subject matter experts, review campus operations, brainstorm new ideas, etc.
Ideas will be collected into a prioritization spreadsheet then sorted by "areas of influence."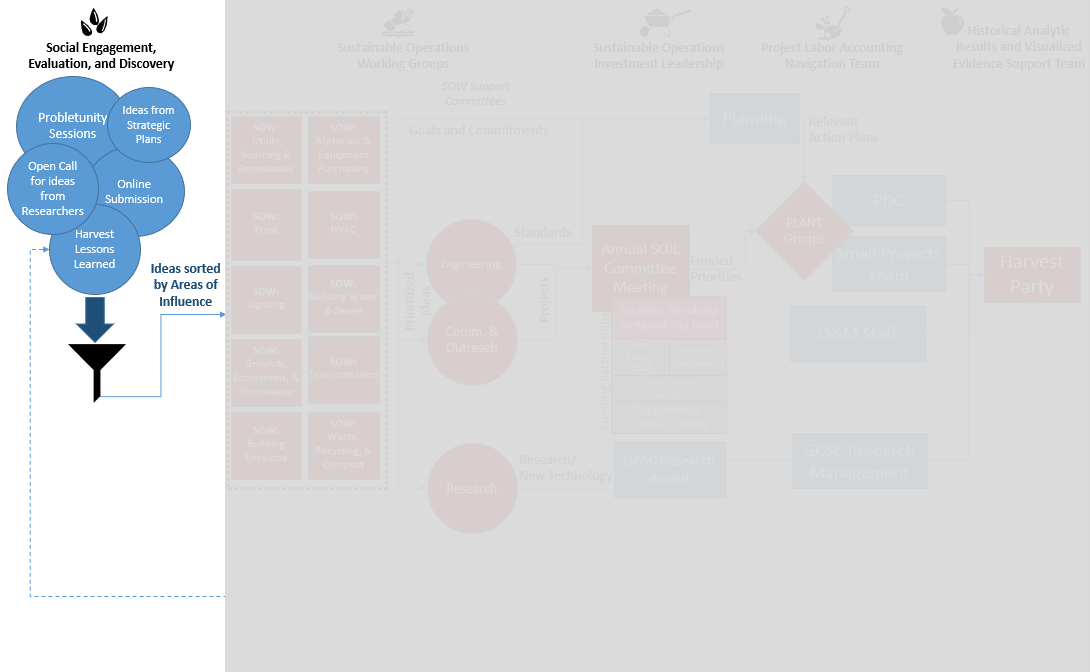 Sustainable Operations Working Groups
Group of diverse stakeholders and subject matter experts related to one of the ten different areas of influence.
Each SOW group is lead by a chair (or co-chairs) to guide ideas through the SEED2SOIL process.
Group will meet for a full-day workshop annually* to review ideas generated during SEED discussions and prioritize projects to be developed to a shovel-ready state.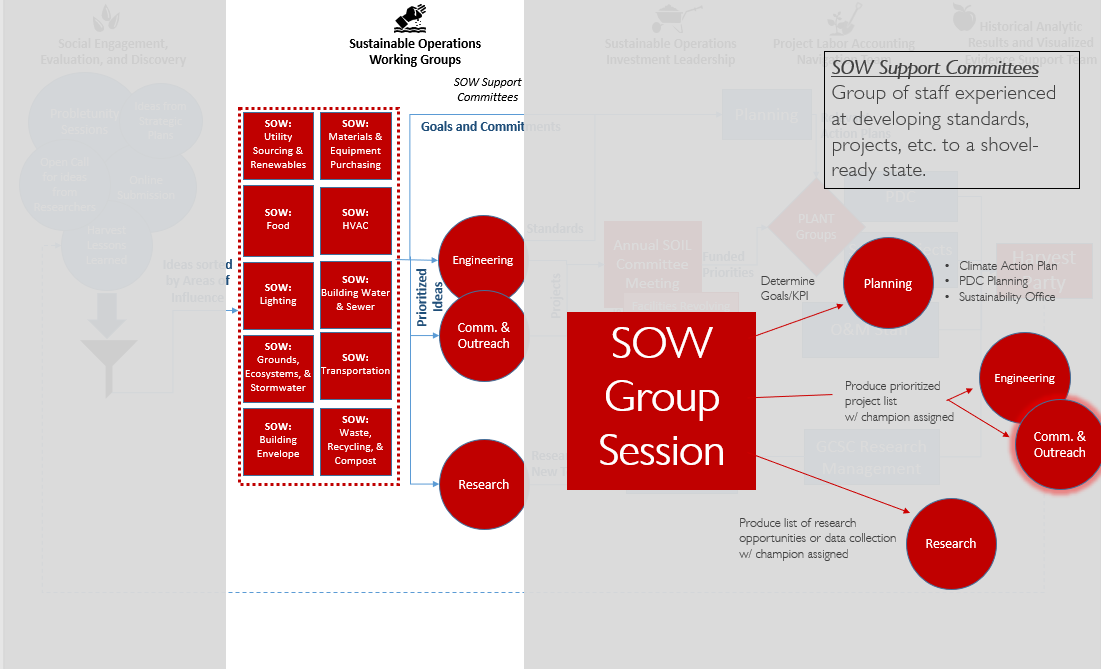 Sustainable Operations Investment Leadership
Annual funding meeting in late February to review shovel-ready project proposals and commit to funding to high priority projects.
Funding committee will look at all prioritized projects and their supporting documentation to assign funding.
Attendees will include multiple partners with available funding.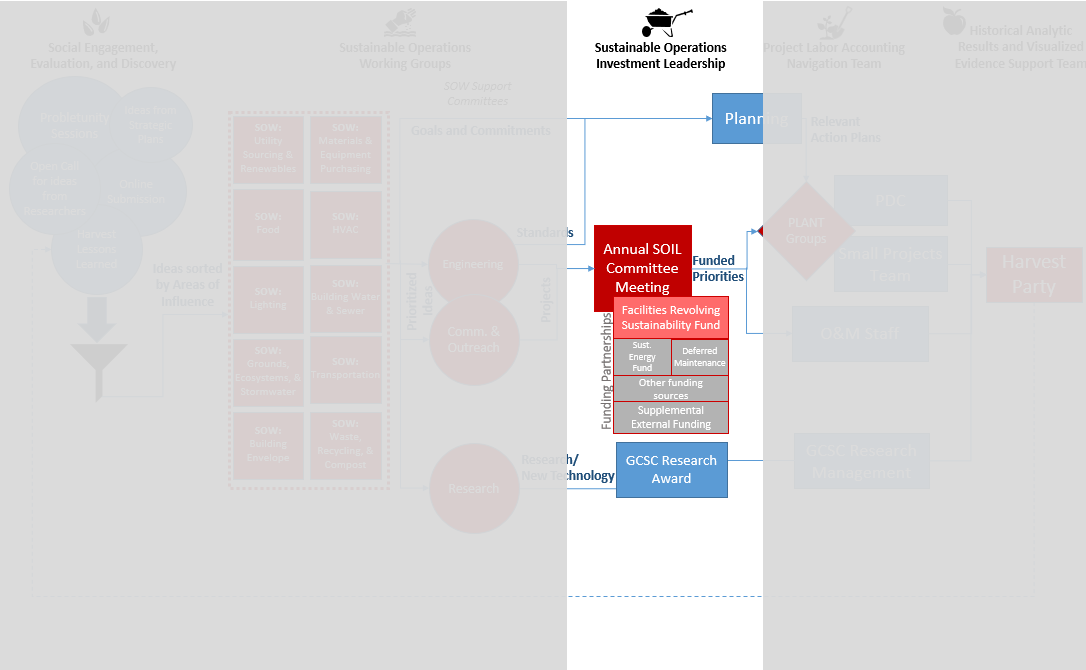 Project Labor Accounting Navigation Team
Phase in which funded projects are being implemented.
Implementation may be led by other existing groups, such as Planning, Development, and Construction (PDC) or Small Project Teams.
Projects shall regularly report updates and status tracking to assigned SEED2SOIL representatives.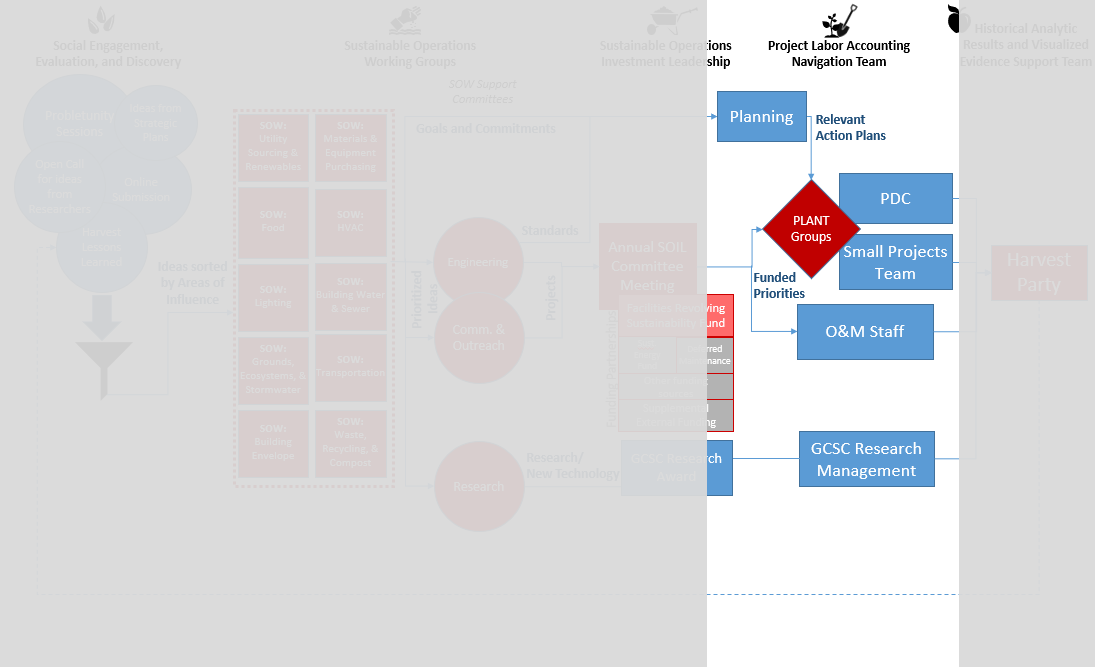 Historical Analytic Results & Visualized Evidence Support Team
Annual meeting to review projects that were selected for implementation; discuss lessons learned; and set any priorities or intentions for the upcoming year.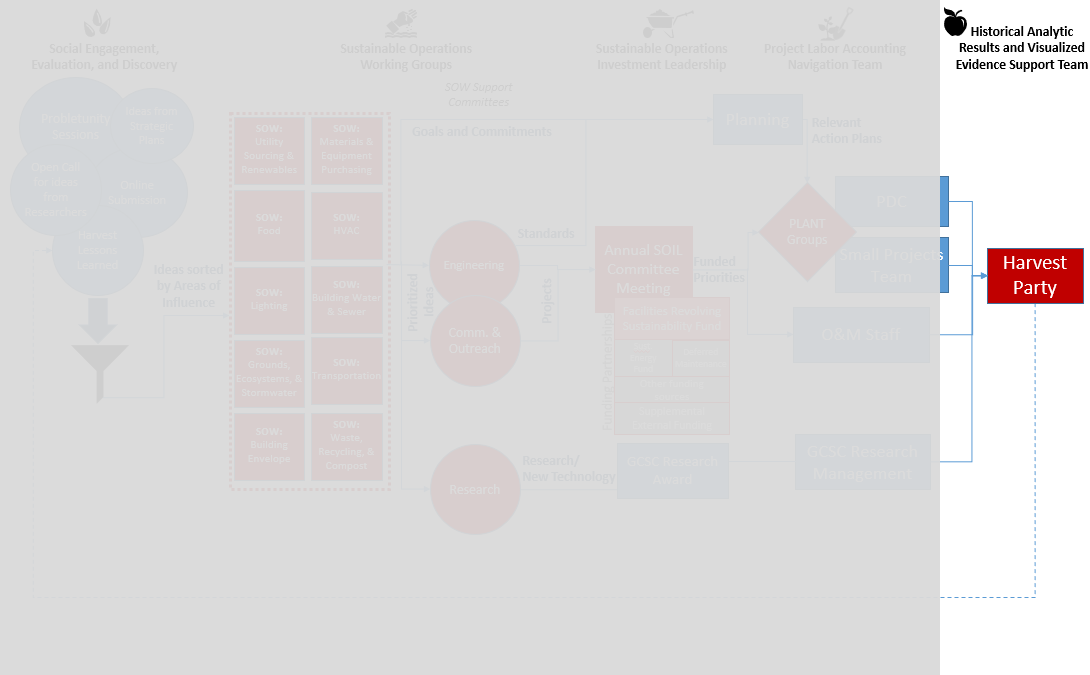 Do you have a project to submit?